The bathroom is among one of the most important rooms in your house.  Since the bathroom is used by not only your family but also any friends that just might stop by to say hello so keeping it clean is very important to most homeowners.  Read on and you just might find some helpful tips on cleaning your bathroom with vinegar.  Vinegar is very effective in cleaning everything from the toiler to the medicine cabinet mirror.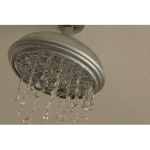 First bathroom cleaning tip on our list of cleaning chores are the bathroom sink faucets.  I like my faucets clean and shiny, which can occur by the use of some vinegar.  Since my faucets seems to build up with soap scum and a lime build up the cleaning chore can be a time consuming job but not with the use of vinegar.  I clean my bathroom faucets by using two tablespoons of vinegar mixed with a teaspoon of salt which will give you a quick solution to clean your faucets and keep them shining like new.  The mixture of vinegar and salt will clean the faucets in the bathtub, bathroom sink faucets and will also clean the kitchen sink along with the faucets.

Second bathroom cleaning tips that are used helpful tip to keep your bathroom running smoothly is to keep the tub and sink drains draining.  You could keep your drains open and unclogged by using baking soda and vinegar.  I use this solution once a week when I do my weekly cleaning.  Keep your drains from causing you problems by pouring a handful of baking soda down the drain then add one half cup of vinegar.  Let stand for a few minutes then rinse the solution down with hot water.  This method may need repeated if the drain is still running slow.  By doing this once a week you will prevent a slow running drain altogether. 

Third bathroom cleaning tip is to prevent mold and mildew.  If you have a problem with mold and mildew on the walls in your bathroom then you are in need of this tip.  Clean your walls down with a rag soaked in vinegar at least once a month.  Cleaning the walls down once a month will prevent mold and mildew from reoccurring.  Wiping down the walls once a month will help eliminate the time you would spend scrubbing down the walls.

Fourth bathroom cleaning tip is on cleaning out your sink and getting rid of the soap scum that is left behind and made worse by hard water.  If hard water has your sink and tub looking kind of bad then maybe you should try this way of removing the soap scum from your bathtub and sink.  Take a scrub rag dampened with full strength vinegar then wipe down the bathtub, tub surround and also the bathroom sink.  This method also takes care of the nasty build up that is left behind by the soap scum.